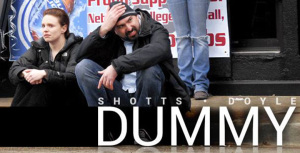 We are so excited to announce that our good friends of DUMMY are coming back to SF! This show is not to be missed! 9p Oct 7th at 446 Valencia St.
DUMMY is Colleen Doyle and Jason Shotts doing a two-person improvised show. They started performing together at the iO Theater in Chicago back in 2008.
Since then, DUMMY has performed for audiences in London, Rome, Copenhagen, Los Angeles, San Francisco, New York, San Diego, Austin, Houston, Washington DC, Cleveland, Detroit, Minneapolis, St. Louis, Atlanta, Traverse City and Gainesville.
DUMMY proudly won the iO Chicago's Del Award for "Best Non-Harold Improv Show" in 2013 and 2014.
For years T.J. Jagodowski and Dave Pasquesi have reigned as Chicago's must-see two-person improv team. After catching a recent set from Colleen Doyle and Jason Shotts at iO Theater, I think it's safe to say there's room on that improv pedestal for yet another pair of performers.  – Nina Metz, Chicago Tribune
Grab tickets before they sell out!